In 1828, Charles Parker started making coffee mills for Patrick Lewis, a manufacturer of coffee mills. Charles contracted with Patrick Lewis to make coffee mills for his company. The Charles Parker company went through many rough times, including failures and closures, until they closed the door permanently. I will share more history on Charles Parker on its history page. It was an innovative company at the time with numerous patents.
List of Charles Parker Coffee Grinders
Side Mill / Post mills (cast-iron with sheet metal hoppers, mounted on a wooden back)

California (changes to No. 130 later)
No. 0 – No. 3 (changes to No. 131-134 later)
Imitation Wilson (changes to No. 135 later)
Union Side Mills (No. 10, No. 15, No. 20, No. 30) 1850s – 1890s
Eagle Side Mills (No. 50, No. 60, No. 70, No. 80, No. 90, No. 100 aka "large" California Mill)

Large Floor Mill (see picture below)
Planter's mills (No. 1 – No. 5)
Box Mills

Union Coffee Mills (No. 25-hopper design changes later, No. 35, No. 40, No. 45)
Eagle Coffee Mills (No. 101 to No. 108)

New Box Mills (1870s)
Parker's Coffee and Can Combined Mill (1872 – 1886)
Parker's Columbia Model No. 260
Farm Coffee Mills Series (re-design of the older Wood Back series)
Fly-wheels & Side Hand-crank (No. 501, No. 502, No. 500, and No. 560)
National Coffee Mills (No. 300 – No. 302, No. 325, No. 330 – No. 335, No. 314, No. 316, No. 318)
Kentucky Hinged Top (No. 350 – No. 370)
The Cast-Iron Wall Mill Series (No. 450 – No. 470)
Fancy Bronzed Iron Tops (No. 400 – 402, No. 425)
Wall Mills (No. 441, No. 443, No. 444, No. 446, No. 447)
The Parker "Victor" Wood Canister Mills (No. 525, No. 530, No. 535, No. 540, No. 541, No 542, No 545, No 555 aka Rapid Grinders)
No. 200, 250, 3,000, 4,000 models
Charles Parker Coffee Grinder Listings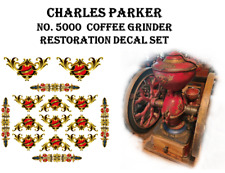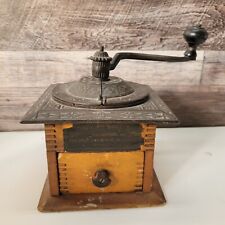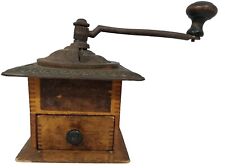 More Information on Charles Parker
Charles Parker was an American inventor and manufacturer best known for his work in coffee mills. He was born in 1828 in Connecticut and began his career as a machinist and mechanic. In the 1850s, he began working on designs for coffee mills and eventually developed several innovative and highly successful models.
One of Parker's most famous coffee mills is the "Parker No. 60," patented in 1864 and quickly became popular among coffee drinkers. It helped to establish Charles Parker as a leading manufacturer of coffee mills.
Parker's coffee mills were made in a Meriden, Connecticut factory and sold in the United States and abroad. The company continued to produce coffee mills until the early 20th century, and Charles Parker's designs remain highly respected and sought after by collectors today.